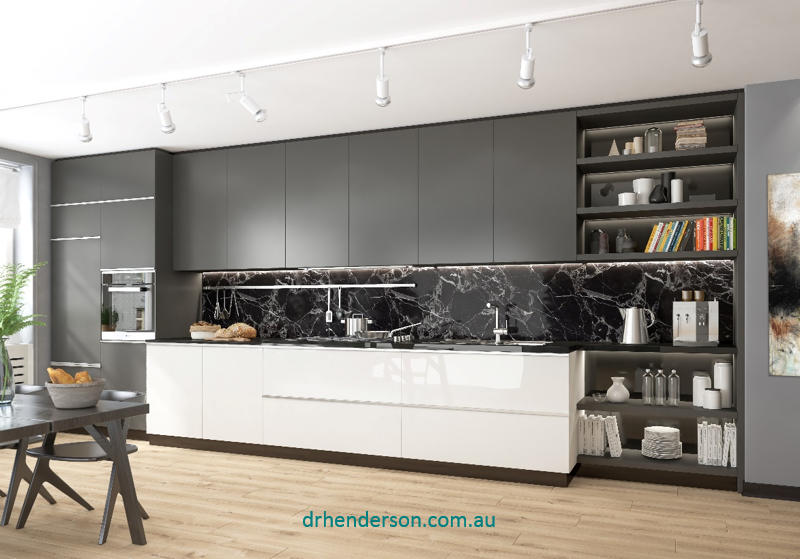 Designing and creating a beautiful kitchen has never been so easy and affordable than with D&R Henderson's Soft Touch Super Matt. With an amazing 12 on trend colours to choose from, there is something for every decor.
So why choose Soft Touch Super Matt
Is a great solution as an Anti-Reflective finish which cuts and edges really well, with great stain resistance? Our product is manufactured with a highly durable PVC foil coating to withstand what life will throw at it. Soft Touch Super Matt finish is on trend at the moment, with many starting to move away from gloss. Looking for elegance without breaking the budget?
Soft Touch Technical Properties
Panels are made up of a premium quality low formaldehyde resin called E0 MDF (Medium Density Fibreboard) panel substrate that has been laminated, with a 0.30 mm decorative polymer film overlay or RTF (Rigid Thermoformable foil) using PUR adhesive (reactive polyurethane) that provides the highest structural bonding strength.
Benefits
A decorative polymer film overlay that is impact resistant to chipping, cracking or breaking compared to similar panel solutions. A less expensive alternative to painted board material & is easy to maintain and clean.
D&R Henderson is one of Australia's biggest independent board manufacturers that makes sustainable decorative and structural products. Along with our Soft Touch Super Matt we a beautiful range of White and Coloured Melamine Board to suit any budget and any application, from kitchen to bathroom to laundry.
To view the range of Soft Touch colours at D&R Henderson click on the Colour & Design on our web site https://drhenderson.com.au/soft-touch-super-matt/ and support an Australian owned company and the families of those employed with us.